---
Cottingley Fairies Lock-Down Challenge!
Brian Froud looking for fairies!
"We wish you all the best of luck in finding and photographing those charming but illusive little creatures."
~ Wendy & Brian Froud
We'll see more of their 'fairy finding' in the forthcoming edition of FAE!
CLICK HERE FOR CHALLENGE DETAILS!

---
FAE Magazine issue #45 GNOMES & GARDEN edition is

OUT NOW!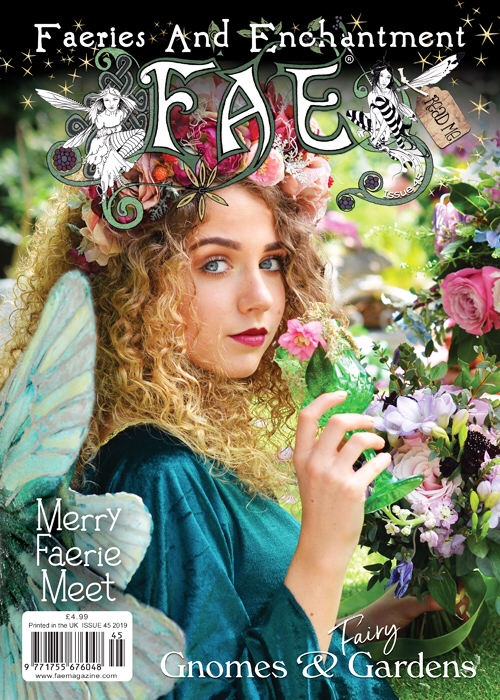 This special edition Gnomes & Gardens issue of FAE is filled with fairies, gnomes and magic! The cover photo, was taken by the super-talented Shirlie Kemp, she also produced the "Merry Faerie Meet" feature inside the mag. New FAE columnist Lucy Cavendish, answers your questions in her "Faery Blessings" column. Kitty Phelan tells us how to welcome fairies into our garden, featuring model Emma Moon photographed by Andy Teo. Plus you can take a peek into the very secret "Kelly Fairy Garden". Photographer and poet Danniellajaine shares her "Diaries of the Daydreamer" photo-feature and poetry.
Jesse Lynn Smart reviews Oracle of the Fairies by Karen Kay with illustrations by Ginger Kelly, plus she does a mini reading using the cards. Learn about flower energy and vibrations with Salvatore and Tess Joyce writes about healing in the garden. Explore the musical world of Mira Morningstar, and embrace your inner gnome with Rebecca Yoga Fae. Atlantis Fae shows us how to turn your face into a fairy garden! There are lots of fairy events taking us into 2020 and Maggie Hamilton's new book, "Inside the Secret Life of Fairies" features in the Fairy Book Club section. Plus much, much, much more inside this magical winter edition of FAE.

BUY FAE Magazine HERE! or SUBSCRIBE to FAE HERE

AVAILABLE for APPLE iPAD and ANDROID TABLETS:
Our magazine has faeries, folklore, fashion, fairy news, faerie features and more! And is published in the UK in magical Cornwall – the enchanted land of the faeries! Faeries and Enchantment mag is sold worldwide, and is also available as an App…
Welcome to FAE – The enchanted and magical faery magazine from the Celtic lands – We also have our very own fairy shop! The FAE Shop for all your fairy magazine gift desires!
"Your publication is so pretty, its eye candy, so Fairie Fantastic" Artist Linda Biggs