BUY FAE Magazine HERE! or SUBSCRIBE to FAE HERE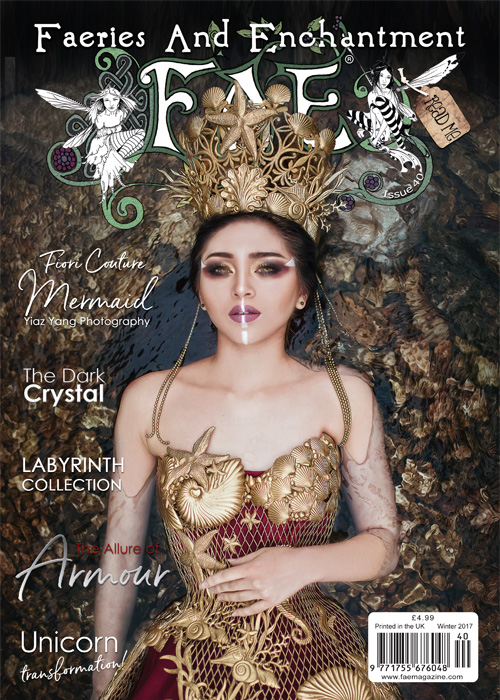 The winter 2017 edition of FAE looks at women in armour, and includes stunning photographic art from Lillian Liu, and Sheridan's Art, plus the new limited edition Terry English calendar with photography from John Mason. Our cover features the beautiful Alex Christine wearing Fiori Couture, photographed by Yiaz Yang.
We showcase the limited edition 'Labyrinth' fashion collection from Black Milk Clothing in collaboration with the Jim Henson Company. The Fairytale Traveler visits The Dark Crystal exhibition in Atlanta and interviews Brian & Wendy Froud. The Fairy Fashionista shares part 3 of the worldwide Fairy Wing Guide in the final part of this series. 'Mirror Mirror' Photography by Ana Isabel featuring Rouge Pony.


AVAILABLE for APPLE iPAD and ANDROID TABLETS:
Our magazine has faeries, folklore, fashion, fairy news, faerie features and more! And is published in the UK in magical Cornwall – the enchanted land of the faeries! Faeries and Enchantment mag is sold worldwide, and is also available as an App…
Welcome to FAE – The enchanted and magical faery magazine from the Celtic lands – We also have our very own fairy shop! The FAE Shop for all your fairy magazine gift desires!
"Your publication is so pretty, its eye candy, so Fairie Fantastic" Artist Linda Biggs