FAE Now available at Magazine Heaven, Rushden Lakes Shopping Park, Northants UK
The cover of our Arthurian Edition, photographed at the magical St Nectan's Glen in Tintagel, Cornwall.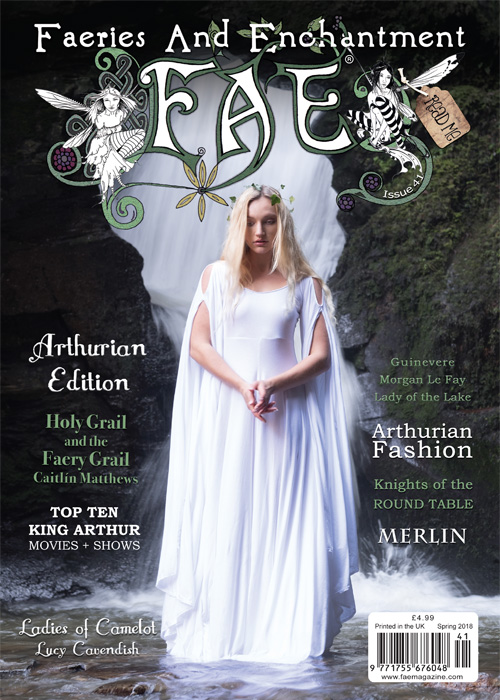 Are you ready to join FAE in Camelot this spring? This Arthurian edition of FAE is filled with the magic and enchantment of the King Arthur legend.
Featuring exclusive contributions from Caitlin Matthews with 'The Holy Grail and the Faery Grail', and we swim deeply into the waters where the Lady of the Lake resides, and look at the powerful Guinevere, and Morgan Le Fay 
as we 'Reclaim the Ladies of Camelot' with Lucy Cavendish.  Sit with us at the round table, and join our Fairytale Traveler on 'The Trail for the Grail' in this exciting Arthurian edition of FAE filled with the magic of Merlin, Morgana, and more! Click for more details

BONUS! If you take out a subscription to FAE you will also receive a FREE A5 'The Magic of St Nectan's Glen' Greetings Card, by artist Anne Sudworth while stocks last. You can see more of her stunning artwork here: www.annesudworth.co.uk
BUY FAE Magazine HERE! or SUBSCRIBE to FAE HERE


AVAILABLE for APPLE iPAD and ANDROID TABLETS:
Our magazine has faeries, folklore, fashion, fairy news, faerie features and more! And is published in the UK in magical Cornwall – the enchanted land of the faeries! Faeries and Enchantment mag is sold worldwide, and is also available as an App…
Welcome to FAE – The enchanted and magical faery magazine from the Celtic lands – We also have our very own fairy shop! The FAE Shop for all your fairy magazine gift desires!
"Your publication is so pretty, its eye candy, so Fairie Fantastic" Artist Linda Biggs