Welcome to our weekly newsletter!
FOLLOW US ON INSTAGRAM! @faemagazine
This time we share another "How To" from one of our earlier editions – to help you keep creative during the lock-down. the beautiful Bubbles of the Pixie shows us how to create a Faerie Dream Catcher! Plus there's still time to enter our Cottingley Fairies Challenge (scroll to the end to see how).
We are super-excited to announce that you can now download, issues 8 to 14 of FAE magazine!
Visit TheFAEShop.com to download instantly! Only £10 (Lock-Down Offer)
Turn back time! For the first time you can download the first 14 issues of FAE magazine directly onto your computer or device. Experience FAE (Faeries and Enchantment) magazine from our humble beginnings as a tiny acorn! See how FAE has evolved since the first edition back in 2007! More issues will become available soon!
---
MAKE A FAERIE DREAM CATCHER!
From issue 4 with Bubbles the Pixie
1. You can leave your hoop bare if you prefer that look. I like to wrap 5mm satin ribbon around my hoop because it is an easy way of adding colour to your dreamcatcher and gives a lovely shiny finish. I fix it in place using strong all purpose glue and use a little glue every couple of inches to stop the ribbon from slipping. You can also use wool, embroidery thread or paint to cover your hoop.
2. Tie the thread to your hoop at the top and then at even intervals around the hoop, about every two inches. Leave a bit of slack to create a slight loop, but don't let it be too loose. Tie the last knot quite close to the first knot to stop a large gap from forming. This is the first row.
3. Continue tying knots around the circle. This time, instead of tying your knot onto the hoop, make your knot in the center of each loop in the first row. Continue round in a spiral until you are left with a small circle in the middle. The circle size is up to you. Thread ribbon around the edge of this circle to give it a more defined look if you wish. You could also add beads too. You can add beads at any point in the weaving process, remember 'less' is more!
4. You can hang feathers from it wrap flowers, ivy, or fluff around the hoop, attach butterflys and flowers, or hang crystals or shells etc.These are all things that faeries will love. The possibilities are endless. I have wrapped Ivy around my hoop and a few small flowers which I have made sparkle with a little fairy dust!. The butterfly I've added to the middle came from a flower shop (I glittered it myself). And I've hung a feather with a small jewel, and some silvery trails made from the thread.
5. Make a loop at the top of your dreamcathcer using some thread. Hang your finished dreamcatcher in the room where you sleep. Hang it above your bed to get the best results. Dreams fly around above your head and are caught in the dreamweb. Good dreams are filtered through your dreamcatcher onto your head, while bad dreams are trapped in the web. Cleanse your dreamcatcher under the light of a full moon to rid it of bad dreams. This should give you a peaceful nights sleep.
6.I hope you have enjoyed creating your very own faerie dreamcatcher. It is a wonderful opportunity to allow your creativity to flow, and they also make excellent gifts for friends and family. Hand-made gifts are always more special and will be a treasured gift forever. Visit Bubbles on Instagram to see her magical wings and mandalas.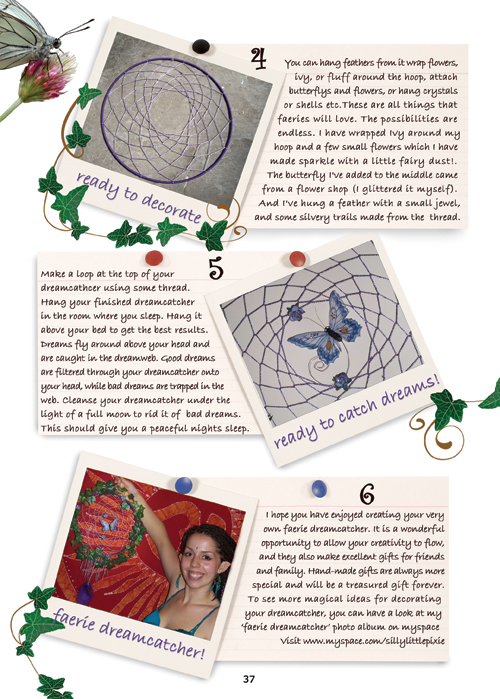 Tag us on social media with your wands! HASHTAG #faedreamcatcher @faemagazine 
www.instagram.com/silly_little_pixie_creations
---
DO YOU LOVE MERMAIDS TOO???
We have just released ALL 6 ISSUES FAE's sea*star magazine: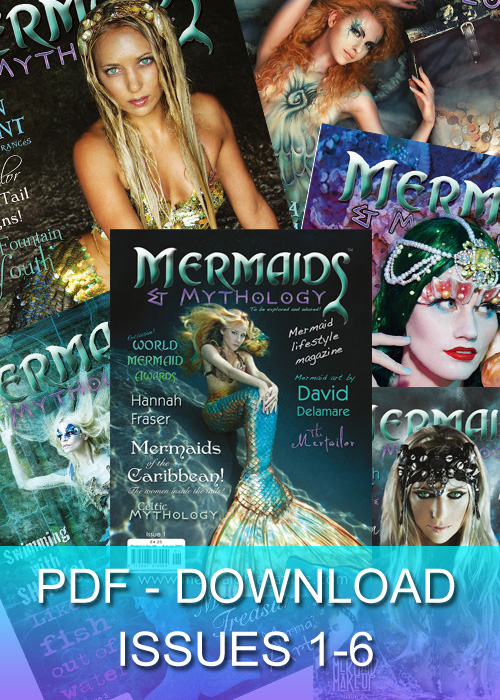 All of these issues except for issue 4 (we have a few copies available HERE) have sold out! But for the FIRST TIME you can download them all to your computer HERE – Or purchase a single PDF issue to get a flavour of the magazine style and content. There will be a special edition of Mermaid Magazine coming very soon!
---
 VINTAGE FAERIES EDITION
FEATURING THE COTTINGELY FAIRIES CHALLENGE PHOTOS!
Cottingley Fairy Lock-Down Challenge!
Create a photographic homage to the Cottingley fairies pictures taken by Elsie and Frances. Email your photos to info@faemagazine.com for possible publication by the 7th of May!
Photos can be colour or black/white. We are dedicating AT LEAST 8 PAGES for your contributions! This is the perfect fun thing to do with yourself or your children as you pay homage to the iconic Cottingley images. Does not have to be outdoors, be creative and use your imagination! We look forward to seeing your photos!
CREDITS FOR ABOVE PHOTO:
Photographer: Tim Winter Costumes and MUA: Rosanna Long
Models: Rosanna Long, Emily Barnes and Hannah Wheatley
Fairy Wings and Jewellery: etsy.com/uk/shop/JustAsStrangeAsIAm
---
FREE 7-DAY TRIAL!
ORACLE OF THE FAIRIES APP