Mermaids, Magic & Mystery Workshop
with Patrick Gamble & Elaine Fenton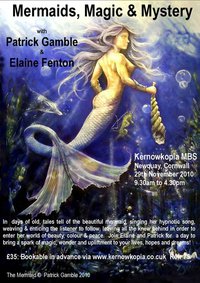 In days of old, tales tell of the beautiful mermaid, singing her hypnotic song, weaving and enticing the listener to follow, leaving all the knew behind in order to enter her world of beauty, colour and peace.
Join Elaine and Patrick for a day-long workshop in which you will explore:
Colour – and its physical and vibrational essence and healing qualities.
Sound – Entering the deep peace of the inner worlds.
Vision – As you share experiences through activities and stories which hold precious reflections and insights.
This is a day to bring a spark of magic, wonder and upliftment to your lives, hopes and dreams!
Sands Resort Hotel, Newquay Cornwall
Porth, United Kingdom on 29th November 09:30 – 17:00
Cost: £35 Bookable in advance from www.kernowkopia.co.uk Booking Ref:35