Part of Karen Kay's Faery Events: Avalon Faery weekend in Glastonbury, UK
 There will be TWO DEBUT UK performances with RAPALJE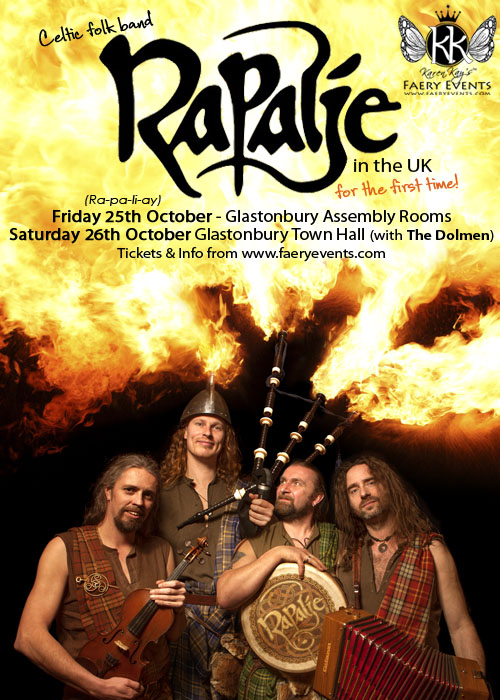 For the first time one of Holland's finest musical exports 'RAPALJE' will be performing in the heart of Avalon. Celtic folk band Rapalje are to play on Friday 25th October at the Glastonbury Assembly Rooms, plus GOBLIN MARKET:  With Elizabeth-Jane Baldry & Maxine Fone 'Goblin Market' is a performance for spoken voice and golden harp of Christina Rossetti's celebrated and disturbing narrative poem – a unique combination in British literature of the grotesque, the fairytale, the erotic and the moral. A night of faery culture.
Their second gig will be at the infamous Avalon Faery Ball on Saturday 26th October at Glastonbury town Hall, this time they will be playing with their UK friends, The Dolmen! So that will be TWO amazing headline acts on the same night! A night of real faery delight!!!
Tickets for Friday 25th October cost £15.
Tickets for Saturday 26th October cost £25
Or get a special discount and buy tickets for both nights for £35 from www.thefaeshop.com
Sign up for the free newsletter at www.faeryevents.com for further details
Both events are sponsored by FAE Magazine