Unicorn Workshop & Attunement with Flavia Kate Peters,
ATP® Unicorn Energy Healing System, Master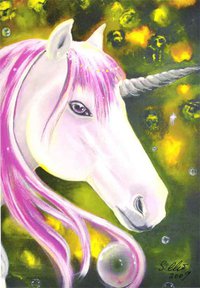 Unicorn image by Sue Clyne
Sunday 1st August at The Wellbeing Centre, Newbury
The unicorns are coming to us now during this time of great change in our world, to teach and show us the gift of unconditional love and the power of healing, which they offer us through their pure energies of light……
Discover who the Unicorns are and how they can help you connect with the Unicorn Kingdom and meet your Unicorn Guide. Make a Unicorn wish and allow the Unicorns to assist you on your path to enlightenment. Learn how to give Unicorn Healings. Discover which crystals align you to the unicorns' energy and much, much more!
At the end of the day you will have the opportunity to receive a Unicorn Energy Attunement, if you wish to deepen your connection with these amazing beings of light.
Held in a safe, loving and supportive environment with practical exercises & guidance that will help you to connect with the unicorns – making them a beloved part of your life.
Cost: £40 includes detailed manual and attunement
More details from Flavia-Kate's official website: