FAE Magazine would like to share some very happy and joyous news, and give a very warm faery welcome to new faery baby, Sebastian Froud! and huge congratulations to Mother Sarah and father Toby Froud, and of course the very proud Grandparents Brian and Wendy Froud, and Sarah's parents too.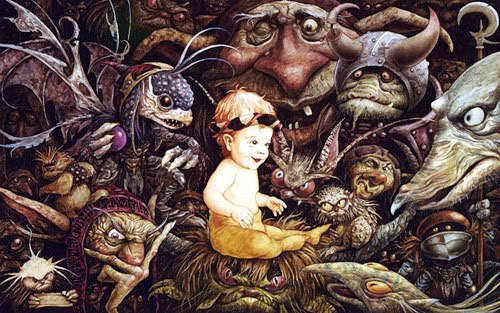 As reported on Facebook today by close friend of the Froud's, Terri Windling-Gayton:
"There's a brand new Froud amongst us! Hooray! Welcome to our beautiful, maddening, inspiring and amazing world, Sebastian Froud. And congratulations to parents Sarah and Toby, to grandparents Wendy and Brian, and to his other grandparents and relatives too. He is certainly a baby surrounded by deep magic and love. (The picture here, by the way, was painted by Brian, before Toby was born.)" – Terri Windling-Gayton via Facebook.