Join the Fairies of Spoutwood Farm in the York PA St Patrick's Parade!
Saturday, March 13, 2010
12:00pm – 4:00pm
475 W Market Street, York, USA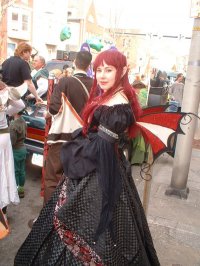 The Spoutwood Faeries will be handing out promotional materials to promote the 19th Annual May Day Fairie Festival to be held at Spoutwood Farm (April 30-May 2).
Organisers say, "Please dress your 'fairy' best (remember this is a family-friendly event) and bring your own magic stones if you like! We will have some but we go through them FAST! Bring drums or other musical instruments if you would like. Bring a friend! We usually have over 50 people joining us in our group, this is a great opportunity to meet wonderful people or re-connect after the long winter".
Visit the Facebook event page for full details on this magical gathering.