Imagine the setting, a fairytail castle in France! Then allow your imagination to really soar as you see yourself taking part in Brian Froud's first ever faerie art master class, and just when you thought it could not get even better! Wendy Froud appears and facilitates a master class where she will share many things including how to breathe life into a sculpture through an understanding of "anatomy with integrity."
For a fairytale experience with the Froud's Book now! Visit: www.chateaubelcastel.com
WHEN:  4-11 August | 11-18 August or 18-25th August 2012
WHERE: Chateau Belcastel, in the midi-Pyrenees region of France
WHAT: Master classes by renowned artists Brian and Wendy Froud with a holiday in a medieval castle that is an historical monument that is a tribute to art, music and architecture.
INCLUDED: Master classes, a private reception and a fine dinner in the castle with the artists, Wendy and Brian Froud. Stay for a week in a wonderful private or semi-private house in one of France's "Most Beautiful Villages," Walk across the bridge for warm croissants in the morning, and enjoy them on your own patio or prepare dinner in your own kitchen. More
Project materials, a VIP tour of the castle and transportation to & from the market and local airport or train station is also provided. (There are no additional costs except meals.)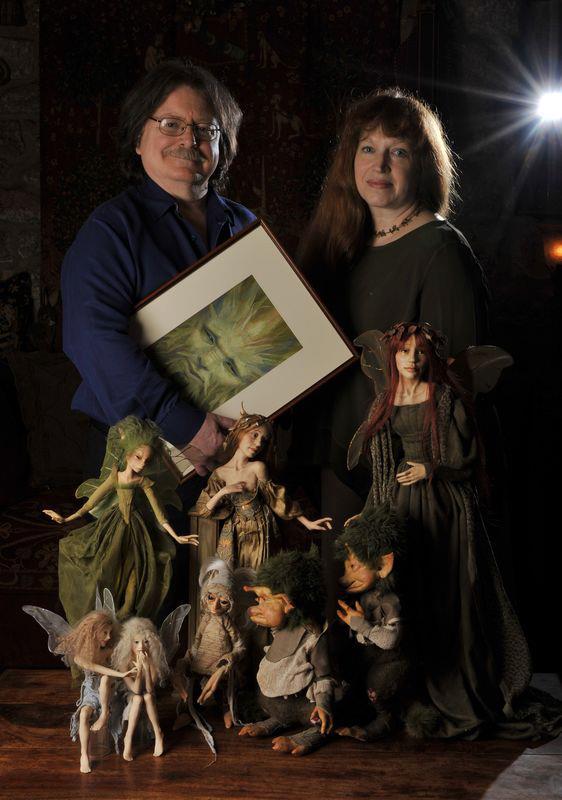 Please note: Wendy's classes have already sold out for the first week! Spaces on all classes are limited, so early booking is advised.
DETAILS OF WENDY FROUD MASTER CLASSES
Beginning with a guided visualization, Wendy will show students how to access the unique gifts that can only be discovered by flexing one's own imagination. She will enable the class to understand how to breathe life into a sculpture through an understanding of "anatomy with integrity." The master model-maker will share her knowledge and technical expertise about how to construct an armatured creature that is fully capable of expression through movement. The head, hands, upper torso and feet will be sculpted while participants gain knowledge of proportion and technique. Students will work with the artist to paint their sculptures and finally finish them with embellishments of hair, costumes and accouterments. Wendy has given similar, abbreviated creative workshops in the past, and her students have always been overwhelmingly pleased about the artistic growth and inspiration they gained.
DETAILS OF BRIAN FROUD MASTER CLASSES
The Liminal Line – Drawing the Unseen | Brian will share his insights into the inner world of Faerie and teach his unique process of using a sketchbook and pencils to express and develop style, emotion and characters. Students will discover new realms of their own inner creative spirits when Brian shows them how to build pathways to new places in their imaginations.
He will show participants how the expressive use of line and color is a response to an impulse that exists in everything around us, and how to use it effectively as a tool when developing characters and finished drawings.
Both master classes are serious but light-hearted workshops, with no previous or professional experience required.
For more info and details of how to make your dreams come true, visit: www.chateaubelcastel.com NOW!