Flocks of faeries are due to invade Penzance for a weekend of frolics and fun!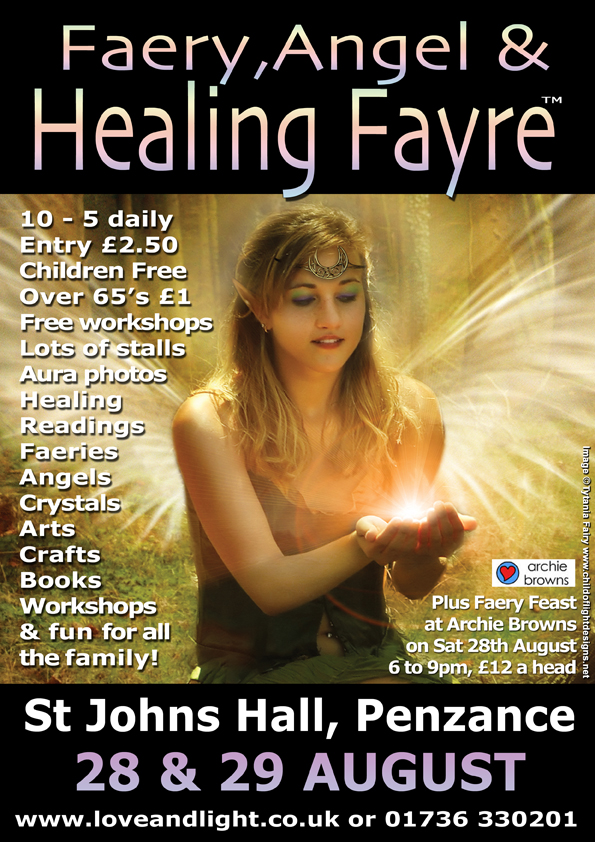 As it's the August Bank Holiday weekend and there will be lots of children around, we are doing free workshops at St Johns Hall with Felicity Fairy and Muddlehead pixie, plus face painting, and workshops for adults too!
The weekend kick starts with the infamous Faery Ball to be held at the Acorn Arts Centre iin Parade Street, Penzance on Friday 27th August from 8pm until midnight. There will be celtic folk, rock music with the Dolmen, and delicate fairy harp music from Regan who is coming to the ball all the way from the USA. There will be a faery fashion show where audience members can show off their outfits and dancing all night long. Tickets to the Faery Ball are £15 and are available from the Acorn Box office.
On 28th and 29th August there will be the annual Faery. Angel & Healing Fayre to be held at St Johns Hall, with lots of stalls, arts, crafts, healing, readings including fairy and angel readings, there will also be books, crystals and much more! entry to the fayre is £2.50 for adults, and children under 12 are free, over 12's are £1, and concessions are available too.
For more information on both events visit
or call 01736 330201