Pure Inspiration's Fantasy Art Collection is a new, high-quality art book that brings together the art and personal commentary of sixteen talented fantasy artists: John Arthur, Sherri Baldy, Jasmine Becket-Griffith, Jody Bergsma, Sara Butcher, Kinuko Y. Craft, Tom Cross, Molly Harrison, Priscilla Hernandez, Sue Miller, Myrea Pettit, Linda Ravenscroft, Vicki Visconti-Tilley, Christine Von Lossberg, Josephine Wall, and Sheila Wolk.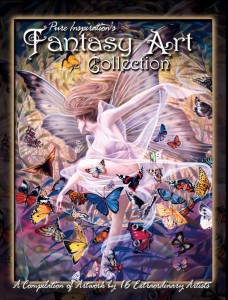 Each artist was given a minimum of twelve pages to display a selection of their paintings, and they also give the reader, fascinating insights into what inspires them, how they approach their art, and what their aspirations are.
The book will be available for purchase in mid-March, 2010.
Pure Inspiration's Fantasy Art Collection is hard bound and 200 pages.
Printed on heavy glossy paper.
ISBN: 978-0-9819762-1-1 For more info or to purchase visit http://www.fantasyartcollection.com