Faery Magic by Lucy Cavendish and Serene Conneeley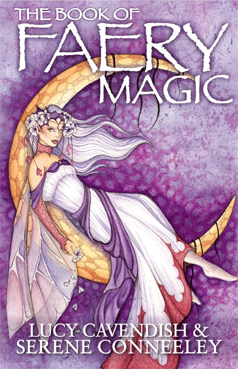 Faeries have long captured the imagination, inspiring people to weave mystical stories, create beautiful art and protect and hold nature as sacred. The very idea of them lifts the spirits, opens the heart and the mind, reminds us of the secret longings of our soul, and fills us with happiness, spontaneity and childlike wonder.
Including fun faery  interviews with: Jessica Galbreth,  Doreen Virtue, Cassandra Eason, Selina Fenech, Lady Amaranth,  Karen Kay,  Izzy Ivy,  Juliet Marillier, Cara Walker,  Wendy Rule and Amelia Sayers
The Book of Faery Magic is a must for anyone wanting to grow closer to nature and to their own wild self. Rich in tradition, history, research and faery lore, it is filled with whimsical accounts of interaction with the fae, grounded guidance on working with them, and beautiful ideas for reconnection with the magical realms. From the faeries we can rediscover who we really are, and awaken our natural abilities to create wonderful, enchanted lives that are full of meaning and purpose, fun and delight.
Whether you believe that faeries are truth or fantasy, The Book of Faery Magic is your portal to a state of being where fun, light-hearted and healing energy will help you fulfil all your dreams, transform your life and improve your relationship with the earth, your self and others. Within these magical pages you will:
* Work with the faeries for health and happiness.
* Be granted the Seven Magical Gifts of Faery.
* Meet different faeries from around the world.
* Learn the legends, lore and history of the Little People.
* Visit the planet's most sacred faery sites.
* Discover the magical properties of faery flowers, herbs and trees.
* Plant your own enchanted garden and brew intoxicating potions.
* Host a magical tea party and bake faery treats.
* Become an eco faery and help make the world a better place.
* Hear from famous faery artists, writers, healers and singers.
* Find out what kind of faery you are, and much much more…
The Book of Faery Magic
by Lucy Cavendish and Serene Conneeley
Blessed Bee, $34.95.