Hi faery peeps!
The summer edition of FAE magazine is AVAILABLE NOW! And is jam-packed with fae fruits! Our cover faery goddess is Atalanta Bluff photographed by Hayley Madden.
CLICK HERE TO SUBSCRIBE TO FAE
CLICK HERE TO BUY A COPY OF THE SUMMER ISSUE
The faery news section looks at powerful females in television fantasy dramas, and also welcomes a new baby!!! Bryony Whistlecraft takes us on a journey through the age of enlightenment. Rob Wildwood gives an exclusive interview about his latest book, 'Magical Places of Britain', and Hannah Titania talks about the Fae and music. Charleigh Riche reviews the spring Faery Ball with photos by Bonnie Baker.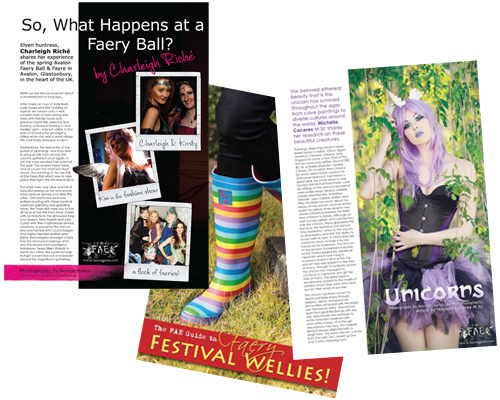 Ahob gives Hobstix readings for two lucky readers! Felicity Fyr Le Fay talks about Elemental Health, and Cara Bamford tells us how we can help our buzzy little friends, the Bees. With the Faery festival season coming up, we take a look at funky festival wellies! Mysterious masks, and Faery Goddess Crowns and Headdresses, and Fairy Freckles accessories. Charleigh Riche reviews the spring Faery Ball, and Bryony Whistlecraft previews an amazing art show called Twilight and Magic. Doreen Virtue shares a card from the Angel Tarot deck, and Solaris shares her Faeryscopes for the coming three months.

FAE SPONSORS The 3 Wishes Faery Fest
Award winning festival included in 2 top tens so far this year! Festival Kidz AND The Green Parent
The 3 Wishes Faery Fest – Celebrating seven years
on 21st to 23rd June 2013 at Mount Edgcumbe country Park, Cremyll, Torpoint, Cornwall (Nr Plymouth Devon) UK.

 Hope to catch up with you at 3 Wishes this midsummer!