Hello lovely FAE peeps 🙂
YOU ARE CORDIALLY INVITED TO ATTEND THE 1st BIRTHDAY PARTY of LINDA RAVENSCROFT'S GALLERY.
THIS SATURDAY 16th AUGUST
Linda Ravenscroft is delighted to invite everyone to her "Mystic Garden Gallery" 8a High Street, Glastonbury BA6 9DU – 01458 832909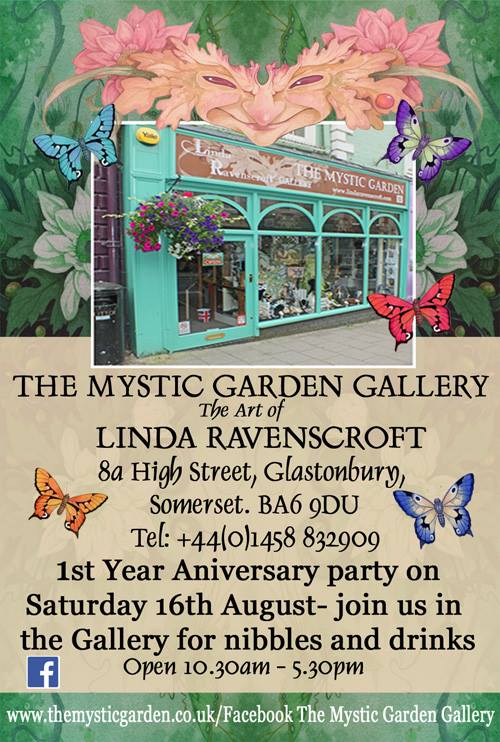 Linda told FAE: "The gallery is one year old on the Saturday 16th August and we want to celebrate our first wonderful year in Glastonbury." Please join Linda and her partner John at the gallery for drinks and nibbles between 10.30am – 5.30pm There will be a unique opportunity to see some of Linda's original artworks, and a select exhibition of original pieces rarely seen, many of which will be available for sale.  Also the Unveiling of "The Morrigan" partner piece to "The Lord of Crows" (which is currently a work in progress). "Some of my own small crafty creations will also be on display.   My own polymer clay pieces, boxes, and spirit dolls….will be exclusive items for sale along with my original sketches and paintings. See you at the party! Hope you can join us or at least wish us Happy Birthday by liking our Facebook page." – Linda xx
You can also pick up a copy of the newest edition of FAE Magazine, plus the FAE team will be there to help Linda and partner John to celebrate!
* * * * * * *
Special promotional display in Easons Ireland – This photo is from Easons store: 34 Bow St, Lisburn, Antrim BT28 1BN