It's time to renew your subscription! Click on the subscribe button above to renew online or phone +44 (0)1736 330201 to place your order over the phone. Take a peek at the forthcoming issue 41:
Are you ready to join FAE in Camelot this spring? This Arthurian edition of FAE is filled with the magic and enchantment of the King Arthur legend. We are super excited to share with you our cover…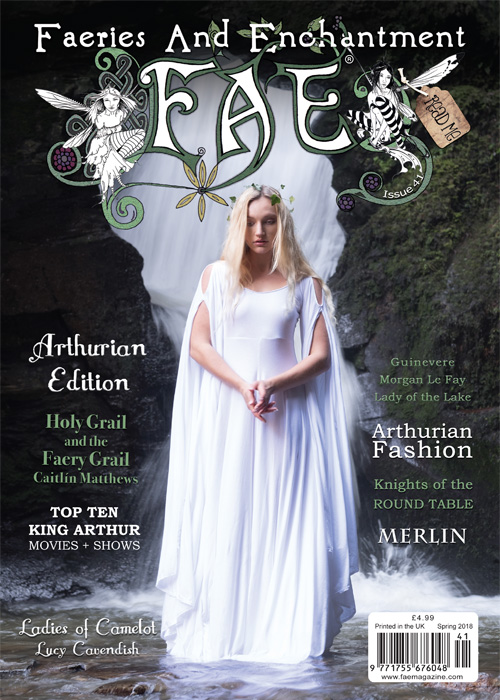 We ship worldwide!
FAE – ARTHURIAN EDITION COVER CREDITS:
The cover was photographed at the magical St Nectan's Glen in Tintagel, Cornwall by
Lee Searle Photography
. Our 'Guinevere', is
Olivia Harriet
, wearing the '
Fae of the Falls
' bespoke gown – by
Moonmaiden Gothic Clothing
(Thank you Sarah and Michael). The photo-shoot was produced by FAE magazine founder,
Karen Kay
. Jake Potter of
RotorScope
filmed our behind-the-scenes footage, and additional footage from
Michael Tingle
and general and very helpful assistance from Meg Lamb. We'd like to extend an extra special thanks to Sarah Harper and the team at
St Nectan's Glen
for their warm welcome and support with our photo-shoot. Plus the lovely lady in the shiny new
St Nectan's Cafe
who made us all beautiful vegan meals!
Featuring exclusive contributions from Caitlin Matthews with 'The Holy Grail and the Faery Grail', where we meet the faery well maidens during our quest for the Grail. Photography by Kindra Nikole.
We swim deeply into the waters where the Lady of the Lake resides, and look at the powerful Guinevere, Morgan Le Fay 
as we 'Reclaim the Ladies of Camelot' with Lucy Cavendish.  Sit with us at the round table, and join us on the trail for the grail, in this exciting Arthurian edition of FAE filled with the magic of Merlin and Morgana!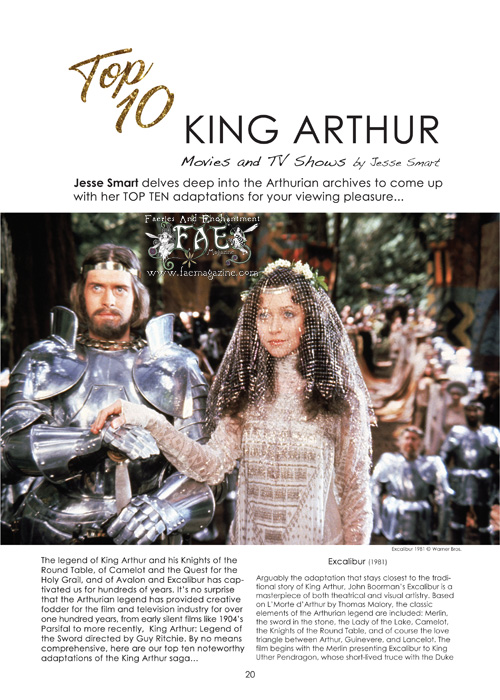 With Arthurian inspired fashion photographed in the infamous King Arthur's Great Halls in Tintagel, plus our cover shoot at the magical St Nectan's Glen, the magic inside this issue is truly tangible! We have compiled our TOP TEN 
TV and Film 
Arthurian adaptations for your viewing pleasure. We venture to the Hidden Kingdoms: Escapism by DanniellaJaine.
All of this and more, as well as our regular features from Flavia Kate Peters, as she Re-Awakens the Magic of the Old Ways in her guided meditation  Our Yoga Fairy returns with some try-at-home postures, as does our delightful Gardening Angel Trixie Belle who says "Give peas a chance!"!
Find us on our FAE Magazine Facebook Page! You can find FAE on Instagram too.
BONUS!
If you take out a Subscription to FAE you will also receive a FREE A5 'The Magic of St. Nectan's Glen' Greetings Card, by artist Anne Sudworth.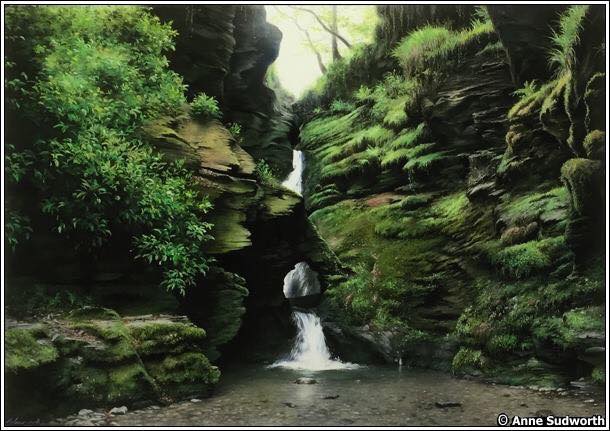 You can see more of her stunning artwork here: www.annesudworth.co.uk