Our winter edition of FAE!
In our winter edition, issue 17, Snow White graces our cover as Designer, Alassie creates a fairytale look for the winter, and Hannah Titania tells us about her real life fairytale in a special interview. We enter the world of Fauns and Satyrs in our 'Faun-tastic' feature with contributions from Emily Carding, and Toby Froud written by Felicity Fyre Le Fay, who also shows us the Darker Side of Faery. The Leprechaun music reviewer returns too! And Doreen Virtue says, 'Your wish is Granted'! In her magical messages from the faeries column.  READ MORE HERE
Be the first to receive your issue hot off the faery press
from the FAE Magazine stall!
At the Avalon Faery Fayre THIS WEEKEND!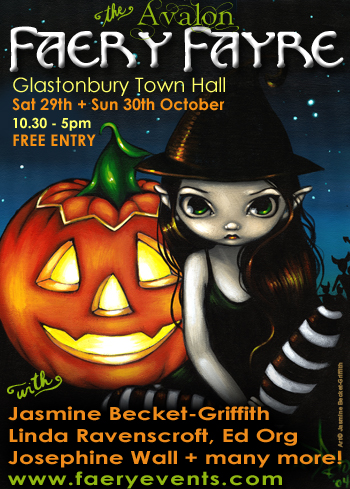 Meet Jasmine Becket-Griffith on her first ever appearance at a UK event, and see exclusive art she has created to reveal at this event! Plus special guest artists Josephine Wall, Linda Ravenscroft,
Emily Carding
Armorel Hamilton
Trudi Finch
FAE Magazine
Ed Org
Cherrie Button
Hayley Rust
Felicity Fyr Le Fay
Seelie Court Faeries
James Ewing
Ceri Norman
StrangelingUK
Alexandra Dawe
John Pilkington
Sue Clyne
Esther Remmington
Gwen Davies
Sally Jacob
Martin Winkles
Tamara Newman
Jewels in the Hedgerow
Elventree
LightRay Silver
Enchanted Faeries
Shane Davis
Kymm Sandum
Sue Rawley
Dizziness Designs
Sparkle the Fairy
Runwater Shoes
Goblin Dreams
Kate Ely
The Goddess Within
Jewels of the Hedgerow
Spirit of the Hare Clothing
Bespoke Costume
+ more!!!
We will all be dancing the night away at the Avalon Faery Ball to the sounds of The Dolmen and Spriggan Mist!
The Faery Ball is now SOLD OUT, but we will be posting pictures here so you don't miss out on all the faery fun!