Festive Faery wishes for a peaceful and joyful Christmas/Yule and a Very Happy 2014!
May all your heartfelt dreams and wishes come true
With love and light from FAE HQ!
xXx
COVER COMPETITION!
 

Closing date for submissions is MONDAY 20th January 2014
 COVER COMPETITION RULES
The themes are Spring – Summer – Autumn or Winter
You may send a photo or photo art for any or all of the seasons.
Please make sure you have high resolution images (300 dots per inch).
If your photo is part of a set – please feel free to send the set.
Photos must be original and not have been published or pending publication anywhere else (that includes facebook and other social networking sites)
You must either own the copyright of the photo, or provide us with written permission from the copyright holder (this is usually the photographer)
Please familiarise yourself with our previous photographic covers so you can see the type of artistic style we are looking for.
Your photo must be original, high quality and eye catching, and be suitable for a cover. Photoshopped images are also acceptable.
TERMS – IMPORTANT PLEASE READ:
No correspondence shall be entered into, and the editors decision is final. By sending in your photo you agree for it to appear on the cover, or inside the magazine. We reserve the right to feature your photo as part of any future FAE magazine promotions.
EMAIL YOUR PHOTOS TO info@faemagazine.com
and finally … GOOD LUCK!!!
* * * * * * * * * * * * * * *
YOUR ADVERT IN SPRING ISSUE OF FAE!
This offer is only open until 31st December!
For a limited period we are offering 50% OFF! A quarter page advert (including design if required), so that's £75 instead of £150! So please reserve your space now – you can pay in the new year!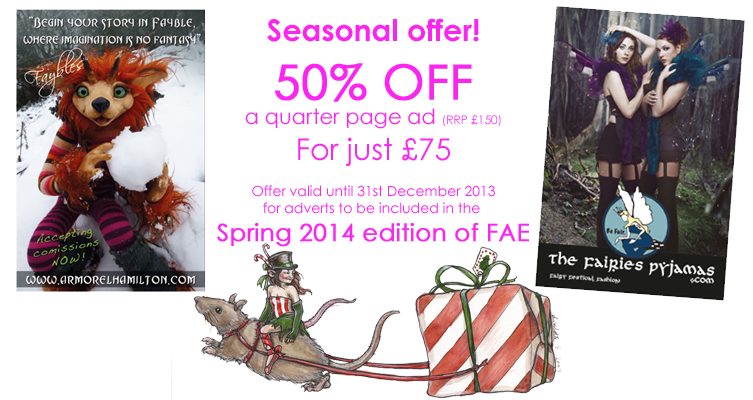 Reach out to the heart of the worldwide faerie community and showcase your business by placing an advert in FAE Faeries and Enchantment magazine. Our in-house designers can also design your ad for you if required. Our readers are loyal and like to collect every issue, which means your advert never ends! Which equates as great value for  money.
Email us to reserve your ad space: info@faemagazine.com
FAE likes to encourage new and small businesses as well as more established companies, and we have advert sizes to reflect all needs and budgets. FAE is environmentally produced and is 100% carbon neutral and printed on FSC accredited paper.