Issue 46 FAE (spring/summer 2020) will be a
 VINTAGE FAERIES EDITION
Cottingley Fairy Lock-Down Challenge!
Create a photographic homage to the Cottingley fairies pictures taken by Elsie and Frances. Email your photos to info@faemagazine.com for possible publication by the end of April!
Photos can be colour or black/white. We are dedicating 8 PAGES for your contributions! This is the perfect fun thing to do with yourself or your children as you pay homage to the iconic Cottingley images. Does not have to be outdoors, be creative and use your imagination! We look forward to seeing your photos!
CREDITS FOR PHOTO:
Photographer: Tim Winter Costumes and MUA: Rosanna Long
Models: Rosanna Long, Emily Barnes and Hannah Wheatley
Fairy Wings and Jewellery: etsy.com/uk/shop/JustAsStrangeAsIAm
---

*****This video has been sponsored by FAE Magazine – Faeries and Enchantment by my beloved friends Karen Kay and Michael Tingle. Beyond honoured********
These beings, the vetter…the faeries… have been a very tangible presence in my life since I can remember, i treasure them, they have precious messages to share with us for the very evolution of our species.
*****The ritual performed in this video will offer proper tools on how to have an utiseta session for the purpose of connecting with the vetter/fairies. Also it expresses beautifully all my love for my fave director Ingmar Bergman. ~ Freyia the Arctic Witch
---
FREE 7-DAY TRIAL!
ORACLE OF THE FAIRIES APP

---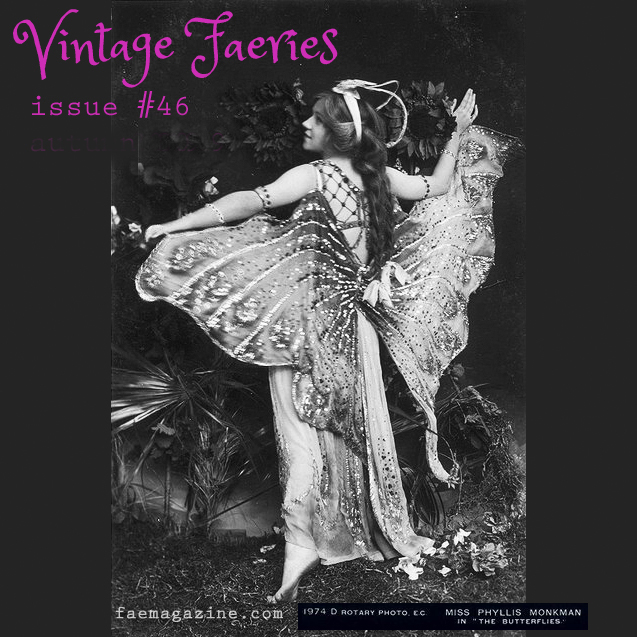 The deadline for issue 46 FAE submissions is END of April 2020
We welcome articles and features (+ exclusive cover) ideas
This 'Vintage Faeries' issue of FAE will look back at faeries of the past, and bring some of them into the future! We welcome your creative ideas on this vintage faerie theme for possible publication in the next edition of FAE.
We are happy to accept and review photo-sets (no nudity), short poems and articles. IMPORTANT: We prefer behind-the-scenes video footage of any photo-shoots for our FAE magazine video promotional videos (mobile phone footage is fine, but high quality footage is preferred). The deadline is end of APRIL 2020.
Please note it is not always possible for us to reply right away due to the high volume of submissions we receive, however, we always do our best to acknowledge your submission enquiries as soon as possible – please be patient. If your submission is successful you will be contacted within 14 days. FAE is run by a small team of faerie enthusiasts, and as such we do not currently pay for submissions, however, we will showcase your creativity to thousands of faerie fans around the fairy world! Email us at: contribute[at]faemagazine.com (remove brackets).