Hi FAE friends! My, my, my! How time is flying by! There's so much going right now in Faeland! We need an entire team of PA's! (Pixie Assistants!).
Thanks for your patience whilst we prepare the new issue of FAE – it's a little delayed, and we really do appreciate your kind understanding. We can you it's going to be FAEtastic!!! You can SUBSCRIBE here so you'll receive your copy as soon as it drops!
Editor Karen Kay has just returned from a flying visit to magical Avebury where she connected with the ancient stones and had a super-productive meeting with the delightful team at The Henge Shop – The base for the debut Avebury Fairy Weekend, where the stalls and workshops will be. Plus there's a secret garden out the back where some of the stalls will be too! It's so enchanting and we know you'll just love it here! This will be the FIRST EVENT where you can have and hold your very own copy of ORACLE OF THE FAIRIES (exclusively available ONLY to those attending Karen's fairy workshop).
September 21st and 22nd
Visit the Facebook event page HERE
There will be special guests holding talks and workshops, including, Brian and Wendy Froud, Armorel Hamilton, Rebecca Broomfield, Laura Daligan, myself, Karen Kay, and surprises!
The workshops are held upstairs in the gallery of the Henge Shop workshop room and costs extra.
SEE or BOOK ALL TALKS/WORKSHOPS HERE
Saturday 21st September 10.30am to 11.30am. Cost £7 – Bring your own drum if you wish, or just listen.
Journey to the Realm of Faery and Connect with your Faery Guides in a Magical Drum Journey Workshop with Laura Daligan. In this Workshop we will Drum for healing for guidance and for meeting the Fae! You can bring your own Drum or enjoy the journey without!
---
Saturday 21st September 12 noon to 1.30pm. Cost £15 – Includes Q&A with the Froud's
Join Brian and Wendy Froud at The Henge Shop in Avebury for this Faerie and Dark Crystal Talk including Q&A. The Dark Crystal Age of Resistance is the eagerly anticipated sequel to The Dark Crystal movie. The entire Froud family worked together on this exciting new series created exclusively for Netflix, and Brian and Wendy wil be sharing some insights about their work as a family in this talk. Please note there will not be any spoilers. The pair will also talk about there journey with faerie and some of the wonderful things they have experienced along the way.
BOOK BRIAN & WENDY'S TALK HERE
---
Saturday 21st September 2pm until 5pm. Cost £50 – Includes an Oracle of the Fairies advance preview signed deck for each participant to take home!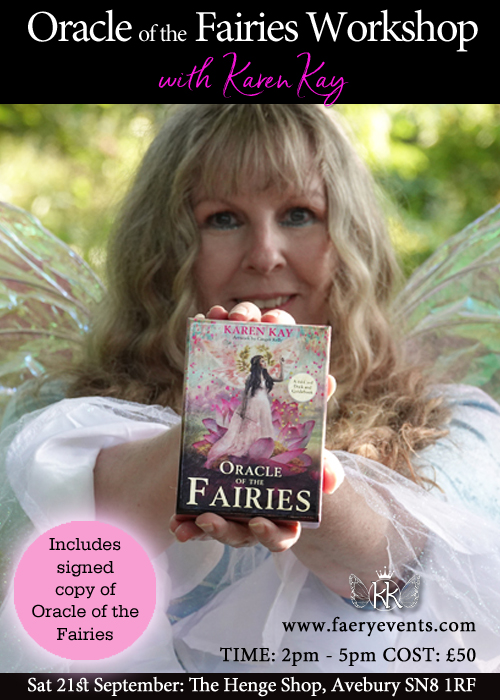 BOOK KAREN KAY'S WORKSHOP HERE
Join Karen Kay in magical Avebury at The Henge Shop for this special workshop where the Oracle of the Fairies cards (Published by Hay House with Artwork by Ginger Kelly) will be previewed. You'll hear about the creation of this magical fairy deck, along with oracle readings from Karen herself! Learn how to interpret the cards as Karen guides you through the cards and their meanings in her new deck! Experience a fairy manifestation meditation journey, you'll learn ways to connect with fairies and to work with them for the highest good of all. Plus you'll participate in a fairy ring wishing and healing circle at the Avebury Stones (weather permitting). Expect the unexpected! Joy, magic and a sprinkling of fairy dust (eco of course!). Plus guests to be announced! A parking pass can be reserved for workshop attendees. Car sharing is encouraged.
---
Saturday 21st September 5.30pm to 6.30pm. Cost £7 – Includes Q&A – Feel free to bring your Faybles!
Discover how following the faerie path and trusting her imagination has enabled her to realise the dreams of her childhood.
Armorel Hamilton worked for Jim Henson's 'Creature Workshop' assisting Brian, Wendy and Toby Froud for the new Dark Crystal: Age of Resistance Netflix series. There will also be an opportunity to ask questions.
---
SUNDAY 22nd September at 12 noon until 1pm. Cost £5 -Mats provided – or free to bring your own.
Have you ever wondered how you can connect to magical energy through movement, breath, meditation and Relaxation? Let me show you. We will spend time connecting to each of the elements and bodies energy centres to enable the magic to ignite from within. This practice will be suitable for beginners and will provide you with a basis to continue this work yourself if you wish.
---
PRACTICAL INFORMATION for The Avebury Fairy Weekend
PLACES TO STAY:
The Lodge, Avebury High Street: Quirky, Veggie breakfast almost opposite the Henge Shop.
Beckhampton and Breakfast – www.aveburyworld.co.uk  01672 539 534  1 mile from Avebury. Very pretty and relaxing. Waggon and Horses pub is close by, and very old Inn which housed horses and carriages.
Drowyn Manor bed and breakfast. www.dorwynmanor.com 01672 539098 – 0.1 mile from Avebury.
Numerous B&B or Hotels in Devizes, Marlborough and Calne.
TRAVELODGE – At Devizes www.travelodge.co.uk/hotels/383/Devizes-hotel
PREMIERE INN – Near Devizes www.premierinn.com
---
CAMPSITES:
Blacklands – Blackland Lakes Campsite and Fishing Lakes, Stockley Lane, Calne, Wiltshire, SN11 0NQ  CALL: 01246 810943
Postern Hill Campsite, Savernake Forest Marlborough Wiltshire SN8 4ND CALL: 01672 515195
Devizes Camping & Caravanning Club Site, Spout Lane, Seend, Melksham SN12 6RN CALL: 01380 828839
---
PARKING at AVEBURY
For a Parking Permit CLICK HERE  – then download/print to show the attendants. You will then need £7 in CASH to pay for your daily parking. There are no local ATM's so please come prepared.
CLICK HERE FOR PARKING PERMIT and INFORMATION
---
FREE 3-PART MINI FAIRY ORACLE COURSE
If you are not able to get to the event or attend my workshop then you can PRE-ORDER Oracle of the Fairies HERE! You'll then receive exclusive access to my three-part mini fairy course (workshop attendees will have access to this course also).
visit the pre-order page for places where you can preorder your deck and how to obtain access to view my mini fairy course!
Oracle of the Fairies! By Karen Kay, Artwork by Ginger Kelly, published by Hay House on 1st October 2019.
There is more to life than what can be seen with the human eye–use this oracle as the portal of possibilities to transport you into the realm of fairy magic and manifest your way to wonders untold!
The fairies wish for everyone to experience their ancient wisdom and feel connected to the Earth. They are the guardians of nature, magical manifestors–they wish only to create beautiful blessings in our lives. Now there is a way to receive these blessings, using the Oracle of the Fairies as the doorway to the invisible realm of possibility just beyond our fingertips.
Created by Karen Kay, renowned fairy communicator, Oracle of the Fairies will guide the user to seek out fairy wisdom and receive concrete answers that will bring inspiration and solutions to everyday questions. Each reading will share positive and practical fairy insight, directly related to the user's unique energy and personal circumstances.
The purpose of this oracle deck is to enable the user to forge their own path in life with wisdom and confidence–easily done when you can readily communicate with your fairy guides for help through this extraordinary deck of cards.
Oracle of the Fairies will appeal to those who love nature and believe in the magic and wonder of life. It is for the people who "know" there is more to life than what can be seen with our physical eyes, who love and care for the planet, and have a passion for the environment.
---
Visit: www.thefaeshop.com to book your ticket.
Magical Memories from Karen Kay's "Fairy Whisperer" appearance on ITV's 'This Morning'.
SEE THE VIDEO FROM THE SHOW HERE