In a couple of weeks FAE magazine will be attending the Samhain Avalon Faery weekend in Glastonbury with the brand new winter edition of FAE! Piping hot off the faery press!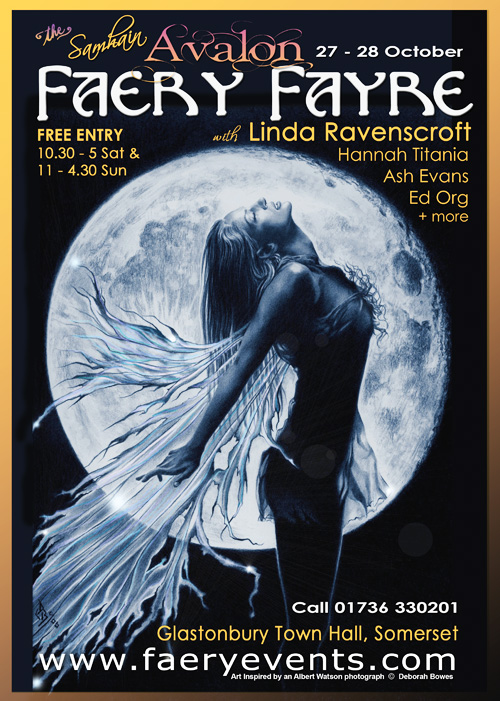 The Avalon Faery Fayre is a FREE event which takes place on the Samhain/Halloween weekend of the 27th and 28th October 2012 at Glastonbury Town Hall. Doors open from 10.30am until 5pm on Saturday and from 11am until 4.30pm on Sunday! Entry is FREE! There will be lots of stalls featuring some of the most amazing faery arts and crafts people, including:
Terry English, Linda Ravenscroft, Álvaro Herranz, Hannah Titania, Ed Org, Emily Carding, Armorel Hamilton, Cherrie Button, Esther Remmington, Alexandra Dawe, Tamara Newman, Jennie Cooper and many more. Visit www.faeryevents.com/faery-events/avalon-faerie-fayre-2012 for exhibitors at this event.
On the evening of Saturday 27th October is the much talked about 'Avalon Faery Ball' where the wonderfully wyrd and fancy faery folk dress in their bestest clothing and dance the night away at the party of the year! with performances form the great and the good of the faery realms including, The Dolmen, Beck Sian, Ghoulia's Peculias, Gypsy Pyksey, Merlin's Apprentice, and dancing delights, plus the Mer-Meet up in the Mermaids Grotto, and your host for the night will be the magical Felicity Fyr Le Fay, plus you'll be "meeted and greeted" by the comical Seelie court Faeries. Take a drink, or to, or three! At the Giggling Goblin Bar for a truly magical night of faery delight, to remember and cherish in your memory forever! tickets are (once again) almost sold out, so be sure to get yours now if you'd like to experience the Avalon Faery Ball at Samhain when the faery veil is at it's thinnest and the realms mingle and merge to become one.
GET YOUR FAERY BALL TICKETS HERE 
On Sunday 28th October at the George & Pilgrim public House events room (upstairs) will be some great workshops and talks, and even a children's
Faery & Mermaid Halloween party! There will also be a special Avalon Faery Banquet at the 100 Monkeys on Glastonbury High Street on Sunday evening between 6.30 and 9.30pm (pre-booking essential).
For details on all the talks & workshops visit WORKSHOPS & TALKS
*********************************************************
So, to round off this FAE mail, I'd like to tell you about a special TV appearance featuring our sis*star magazine MERMAIDS & MYTHOLOGY. To see a video of the 'Fantastico TV show in Latin America, visit: www.fantastico.globo.com